Nov 10, 2013
4,752
2,682
775
So was very surprised to see a bunch of outlets scoring this so high. Ign gave it a 10 and others are calling it the best DC movie ever on par with the dark knight.
Wasn't expecting to see reviews so early since it opens in Oct.
Joaquin Phoenix's Arthur Fleck becomes iconic DC Comics villain Joker in Todd Phillips' origin story movie. Read the Empire review.
www.empireonline.com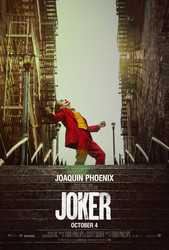 Joker movie reviews & Metacritic score: Arthur Fleck (Joaquin Phoenix) is struggling to find his way in Gotham's fractured society. A clown-for-hire by day, he aspires to be a stand-up comic at nig...
www.metacritic.com
Currently sitting at a 74. 1 Negative review pulling it down and a few Neutral reviews including RogerEbert.Com
can a mod fix the random capital letter in the title. Autocorrect screwed with me.
Last edited: