The analysis below is from the recent PSX 2016 trailer (
https://www.youtube.com/watch?v=f7ZNmEJgXCE
).
The combat of Ni No Kuni 2 has changed since Ni No Kuni 1, and so I decided to take a closer look and hopefully help people get a better idea of how it works now. The combat is more action based, and Level-5 has gotten rid of that annoying command wheel that took forever to find the right moves in the heat of the battle. Commands now are mapped directly to buttons, and special abilities can be used via shortcut buttons.
Let's get into it.
HUD
:
In the image below, one can see the player controlled character's name, face, their green HP, their blue MP, their Level, and a secondary ranged weapon UI (to the left).
One can also see the current AI party characters and their HP and levels. In addition, there are two unique monsters (10 of each) which also form part of the AI party.
Finally, one can see some shortcut buttons (L1 and R1). The L1 button was not used in the trailer, but it appears to let the player interact with the monster AI party somehow.
The R1 button allows the player to instantly execute skills by pressing the respective face button (Triangle, Cross, etc.) while holding R1.
Party:
You can play as any of the three characters seen in the trailer - Evan, Roland, or Tani. We'd didn't see switching of the characters during battle in the trailer, but we did see each of the characters being controlled. The other monsters don't seem controllable, but some interaction seems possible with them via the L1 button.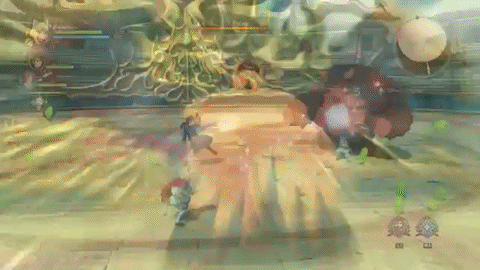 Weapons:
Each party member has at least two weapons - a short range weapon and a long range weapon. Evan uses a sword and a staff/wand, Roland uses a sword and a gun, and Tani uses a spear and a bow. Switching between weapons seem instant, and I'll hazard a guess that attacks with different weapons are mapped to different face buttons (eg. Triangle and Square).
The way the ranged weapons work is that the secondary weapon gauge next to the character's icon fills up in battles slowly and automatically, and this allows the player to use that many shots from the ranged weapon (Max number in trailer is 5). A bit hard to see, but notice the ranged weapon (yellow) gauge next to Tani's image decrease when she fires her bow in the gif below.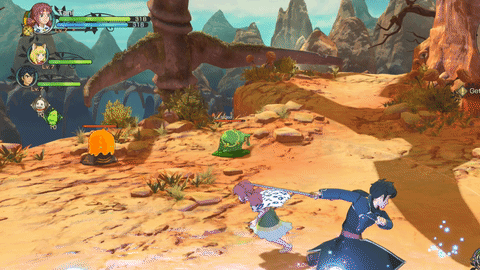 Skills:
By pressing the R1 button, 4 skills each mapped to the respective face buttons can be used instantly. Using these skills consumes MP. Some skills can be seen below. Also notice in the 2nd gif where Tani fires 3 arrows from off screen, which is most likely one of her skills.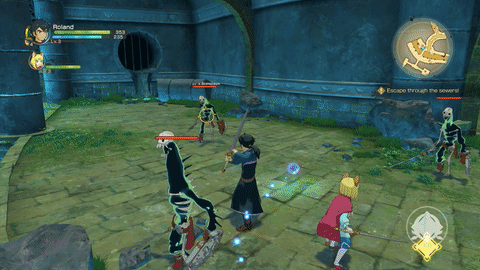 And that's pretty much all we saw in the trailer. Hopefully this manages to release in 2017 coz I'm so ready!