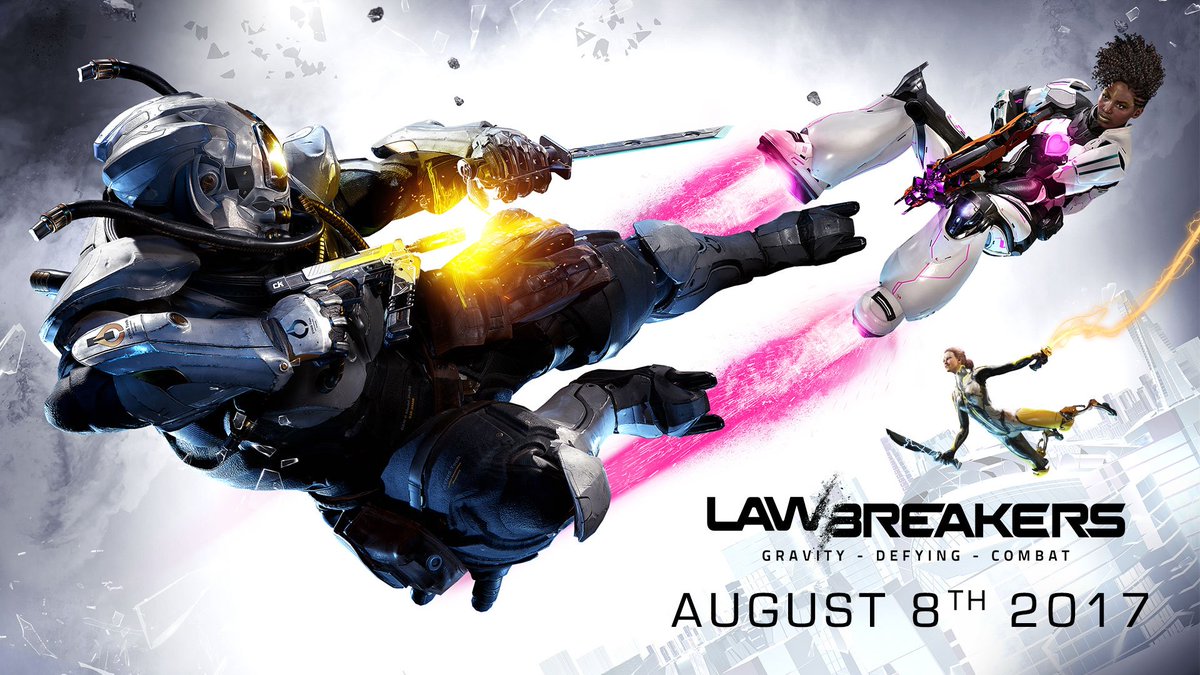 LawBreakers is an FPS from Cliff Bleszinski and his studio, Boss Key. It focuses on quick action around maps that have a gravity differential.
COST
: $29.99 (regular) $39.99 (Deadzo)
PLAY IT ON:
August 7th, 2017 9:00 P.M. PST (PS4), August 7th, 2017 5:00 P.M. EST (Steam)
EDITIONS
: Regular, VERY limited
physical release
, and Deadzo (Deluxe) it includes:
The Deadzo Deluxe Edition includes everything from the Regular Edition plus:
-6 exclusive Character Skins:
Cronos|Jailbreak
Faust|Kommando
Kintaro|Casanova
Sunshine|Vega
Maverick|Electra
Hellion|Caracal
-5 exclusive 'Hadronium Blue' Weapon Skins for:
Enforcer's Aerator
Titan's Crisper
Assassin's Arc Blades
Gunslinger's Alpha & Omega
Battle Medic's Lobber
-Exclusive Deadzo Weapon Stickers:
Deadzo
Deadzo Metal
Deadzo Holo
-Exclusive Deadzo Account Portrait
PLATFORMS
: PC and PS4 (they have hinted at an Xbox edition coming later)
LINKS TO PURCHASE:
-
Steam Both Editions
-
PSN Regular Edition
-
PSN Deadzo Edition
PRELOADS ARE NOW AVAILABLE
DEVELOPER:
Boss Key Productions - a brand new studio dedicated to making FUN shooters.
Lawbreakers is their first creation.
They can be found at
www.bosskey.com
GAME MODES:
Games modes in LawBreakers focus on facilitating action while promoting teamwork. They just announced
Occupy
, which will be a KoTH like mode (doesn't have a fancy graphic).
CHARACTERS:
LawBreakers offers a cast of unique heroes that have their own skills, weapons, mobility options, and looks. The Law and the Breakers are dueling sides that have unique looking characters that perform equally. Each hero's name is linked to a YouTube video that describes their ability.
ASSASSIN
- With two razor-sharp blades and an energy shotgun at her disposal, the Assassin excels in close-quarters-combat. Capable of grappling to any surface or target, dashing in any direction, and disorienting incoming enemies and projectiles, the Assassin is a deceptive enemy that can traverse the battlefield with a deadly grace.
BATTLE MEDIC
- The high-flying Battle Medic can rain explosives from up on high while simultaneously keeping multiple teammates alive. Their cohort of medical drones, a deadly grenade launcher, and a backup energy pistol allow the Battle Medic to weave between contributing to the carnage and helping their allies achieve greatness.
ENFORCER
- Agile and armed to the teeth, the Enforcer comes loaded with a shoulder-mounted launcher, an assault rifle, a shock pistol, and ability-disabling grenades. With a well-rounded arsenal suitable for many situations, and a time-distorting ability capable of increasing weapon and movement speeds for nearby allies, the Enforcer is both a stalwart ally and a fearsome enemy.
GUNSLINGER
- An expert at precision combat, capable of unleashing a flurry of shots from simultaneously wielding two very different guns, the Gunslinger is a lethal marksman with unpredictable movement. Combined with the ability to teleport short distances, and a tactical knife that reveals enemy positions, the Gunslinger can rip through enemy defenses before they even knew he was there.
HARRIER
- Laser guns, laser boots, laser blasts. The Harrier wields intense energy as deftly as a martial artist wields their fists, not only using its power as a weapon, but also as a way to cut across the combat zone. Capable of dealing a constant stream of damage from a distance, the Harrier also provides their allies with a resupply point for them to rally towards.
JUGGERNAUT
- The fearsome Juggernaut units can barrel through defenses just as easily as they can take the punishment. With an armored protocol system and a deployable energy shield, Juggernauts can hold out long enough to get close, then finish their targets with a devastating shotgun and blade capable of tearing through any personal armor.
TITAN
- No one is as capable of pulverizing through the enemy's defensive line quite like the Titan. With a chain lightning gun and rocket launcher in tow, and the ability to lock enemies down with a dense gravity bomb, Titans can dispatch multiple enemies just as easily as a single one. Enrage them enough and they'll go into a berserker rage, unleashing a devastating stream of electrical mayhem while pushing their stamina to the limits.
VANGUARD
- Vanguards feature full-flight capabilities with afterburners strapped to their backs, a powerful tri-core cannon mounted to their suits, and an array of cluster grenades that can carpet a location in anti-personnel explosives. Once charged up, their suits can turn a Vanguard into a veritable fireball, capable of shattering enemies on impact and distorting gravity around them.
WRAITH
- Armed with an automatic pistol in one hand and an explosive blade in the other, Wraiths can leap off walls and air pockets just as easily as they can slide through enemy defenses. To even the field of play when the odds aren't in their favor, Wraiths can tap into the dormant gravitational energy around them to distort time to slow their targets into submission.
MAPS:
Much like the characters, the maps are also the stars of this game. Each map features a low-gravity section that allows for intensive combat maneuvers.
HELPFUL LINKS:
(CLICK TO VIEW)
Review thread:
http://www.neogaf.com/forum/showthread.php?t=1418066
Q & A:
Q: IS THIS GAME LIKE OVERWATCH?
A: ABSOLUTELY NOT. WHILE THE GAME HAS HEROES AND PROMOTES TEAMWORK, IT PLAYS COMPLETELY DIFFERENT AND FOCUSES ON INDIVIDUAL SKILL. IF YOU WOULD LIKE TO DISCUSS OVERWATCH, PLEASE DO IT HERE:
http://www.neogaf.com/forum/showthread.php?t=1387837
Q: IS THIS ONLINE-ONLY?
A: YES
Q: DOES IT HAVE MICROTRANSACTIONS?
A: YES, BUT IT'S ALL COSMETIC. ALL FUTURE MAPS, CHARACTERS, AND WILL BE FREE!
Q: IS THERE A SINGLE PLAYER?
A: NO, IT'S AN ONLINE-ONLY COMPETITIVE SHOOTER.
Q: DOES IT HAVE A PHYSICAL RELEASE?
A: YES, BUT IT'S VERY LIMITED. IT'S "INTENDED" TO BE A DIGITAL GAME.
Q: THIS GAME LOOKS TOO INTIMIDATING FOR ME. WILL THERE BE TUTORIALS?
A: YES! YOU CAN TAKE YOUR TIME TO LEARN EVERYTHING. THERE WILL ALSO BE SKILL-BASED MATCHMAKING.
COMMUNITY CONTENT:

This section will demonstrate various content from the community that highlights what LB is all about.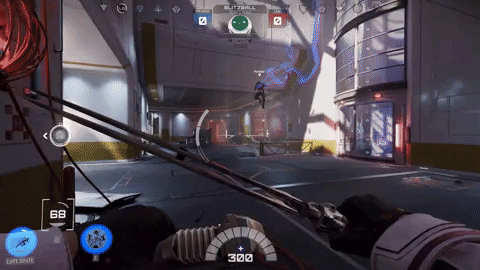 Author notes:
This is my first OT and I understand it may not be the best. That said, I hope it conveys this game properly. Special thanks to CommandThrower for providing the helpful links section.

Thanks!